Quality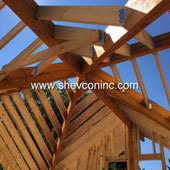 We laser level and square the sill plates of the future house as a standard on all of our frames.
Common rafters, as well as hip and valley rafters are cut to precision no matter how complex the roof is.
All LVL beams are lagged together strictly to fastening schedules.
Sub fascia is cut at a bevel, catching the edge of the roof plywood. Fascia is glued and fastened to sub fascia to avoid extremes in expansion and contraction due to temperature.
Framing looks nice and clean.
Service
Our staff is highly professional. At least one framer with Construction Supervisor's License is present on the job at all times.
The job site is cleaned up in the end of each working day.
Our crew is non-smoking, neat and respectful.
Idea
"Without  craftsmanship, 
inspiration is a mere reed shaken in the wind."
           Johannes Brahms